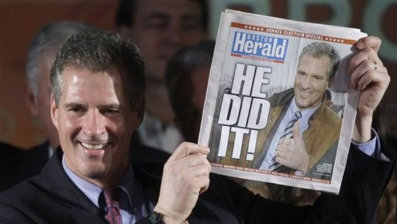 Best $200 I ever spent. I'm going to be smiling for days.
Contrary to a lot of the spin coming out of the Left, here's what Rasmussen found:
In the end, Brown pulled off the upset in large part because he won unaffiliated voters by a 73% to 25% margin. The senator-elect also picked up 23% of the vote from Democrats. [Our polling shows that 53% of voters in Massachusetts are Democrats, 21% Republican and 26% not affiliated with either party.]

Coakley also barely carried a usually reliable Democratic constituency. Union workers went for her by just six points, 52% to 46%.

Fifty-six percent (56%) of voters in the state say health care was the most important factor in their voting decision. Brown made it clear in the closing days of the campaign that he intended to go to Washington to vote against the health care plan proposed by President Obama and congressional Democrats.

Twenty-five percent (25%) of Massachusetts voters say the economy was most important.

Forty-seven percent (47%) favor the health care legislation before Congress while 51% oppose it. However, the intensity was clearly with those who are opposed. Just 25% of voters in Massachusetts Strongly Favor the plan while 41% Strongly Oppose it.

Fifty percent (50%) say it would be better to pass no health care legislation at all rather than passing the bill before Congress.
And as a reminder: "No, they're not going to see this coming."
2010 is shaping up to be a very interesting year.  ..bruce w..
Category: 2010 Election, Obama Administration, US Politics, You Say You Want a Revolution?
Webster is Principal and Founder at Bruce F. Webster & Associates, as well as an Adjunct Professor of Computer Science at Brigham Young University. He works with organizations to help them with troubled or failed information technology (IT) projects. He has also worked in several dozen legal cases as a consultant and as a testifying expert, both in the United States and Japan. He can be reached at bwebster@bfwa.com, or you can follow him on Twitter as @bfwebster.