I just heard Chris Wallace talk about having a press lunch with Pres. Obama today and that Obama seemed quite sure of himself, unfazed by the Massachusetts election last week and the subsequent collapse of Obamacare, and looking forward to his State of the Union address tonight. I immediately flashed back to The Hitchhiker's Guide to the Galaxy (which I first listened to in its original radio format some 30 years ago on our local [Houston] NPR station). One of the major characters is Zaphod Beeblebrox, "ex-confidence trickster and part-time Galactic President" who is on the run, having stolen the starship Heart of Gold at its christening. He is, to put it mildly, very sure of himself:
"Look I'm here with cool OK? I am so amazingly cool you could keep a side of meat in me for a month. I am so hip I have difficulty seeing over my pelvis. Now, will you move before I blow it?"
During the course of events, Zaphod get put into the Total Perspective Vortex, "allegedly the most horrible torture device to which a sentient being can be subjected":
When you are put into the Vortex you are given just one momentary glimpse of the entire unimaginable infinity of creation, and somewhere in it a tiny little mark, a microscopic dot on a microscopic dot, which says, "You are here."
So what happens when Zaphod Beeblebrox is subjected to it?
The door of the Vortex swung open.

From his disembodied mind Gargravarr watched dejectedly. He had rather liked Zaphod Beeblebrox in a strange sort of way. He was clearly a man of many qualities, even if they were mostly bad ones.

He waited for him to flop forward out of the box, as they all did.

Instead, he stepped out.

"Hi!" he said.

"Beeblebrox …" gasped Gargravarr's mind in amazement.

"Could I have a drink please?" said Zaphod.

"You … you … have been in the Vortex?" stammered Gargravarr.

"You saw me, kid."

"And it was working?"

"Sure was."

"And you saw the whole infinity of creation?"

"Sure. Really neat place, you know that?"

Gargravarr's mind was reeling in astonishment. Had his body been with him it would have sat down heavily with its mouth hanging open.

"And you saw yourself," said Gargravarr, "in relation to it all?"

"Oh, yeah yeah."

"But … what did you experience?"

Zaphod shrugged smugly.

"It just told me what I knew all the time. I'm a really terrific and great guy. Didn't I tell you, baby, I'm Zaphod Beeblebrox!"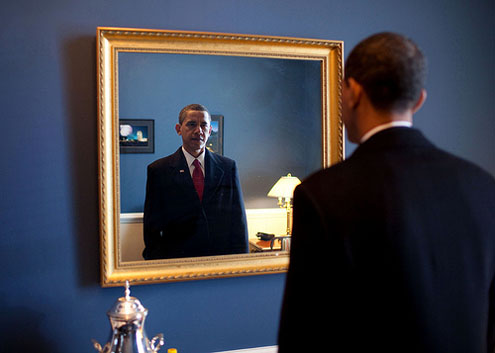 Category: Humor, Main, Obama Administration
Webster is Principal and Founder at Bruce F. Webster & Associates, as well as an Adjunct Professor of Computer Science at Brigham Young University. He works with organizations to help them with troubled or failed information technology (IT) projects. He has also worked in several dozen legal cases as a consultant and as a testifying expert, both in the United States and Japan. He can be reached at bwebster@bfwa.com, or you can follow him on Twitter as @bfwebster.