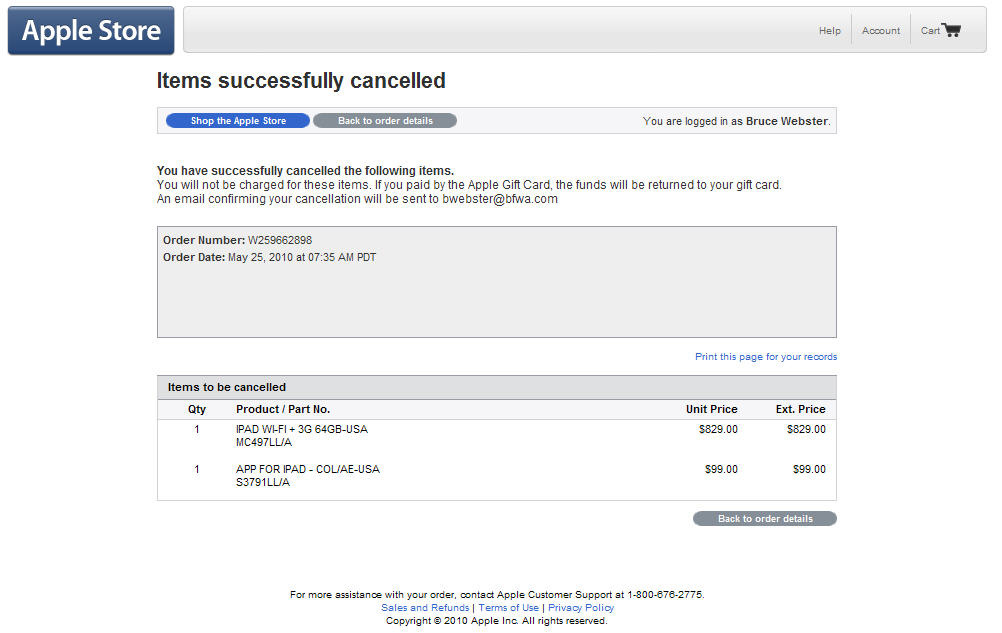 Back on May 22nd, I ordered an Apple iPad (3GS, 64GB) in the full expectation of being able to use AT&T $30/month unlimited data access plan. It was scheduled to ship on June 9th and arrive here in Colorado around the 15th.
However, today AT&T announced that this plan would go away on June 7th, a little over two months after the iPad started shipping. That changeover would happen before my iPad arrived; therefore, I would never have a chance to sign up for that unlimited plan. As I stated elsewhere, I can't believe that Apple didn't know about this either as a possibility or a certainty. It is, perhaps, the most profoundly stupid and self-defeating business move I have seen in years.
On the other hand, if AT&T really did blindside Apple with this, Apple will likely use it to break exclusivity agreements with AT&T and open up both the iPhone and the iPad to other telecom provides. If I were at Sprint or Verizon, I'd be on a plane to Cupertino this morning with an unlimited data plan proposal in hand.
In any case, I went online to Apple today and canceled my iPad order. When I did so, I was given a drop-down list to state the reason for the change. My answer: "I made a mistake."  ..bruce w..
[Note for nit-pickers: yes, I placed the order on May 22nd and have the e-mail from Apple to prove it. However, they didn't process the order until May 25th, hence the date above.]
Category: Apple, Information Technology, Main
Webster is Principal and Founder at Bruce F. Webster & Associates, as well as an Adjunct Professor of Computer Science at Brigham Young University. He works with organizations to help them with troubled or failed information technology (IT) projects. He has also worked in several dozen legal cases as a consultant and as a testifying expert, both in the United States and Japan. He can be reached at bwebster@bfwa.com, or you can follow him on Twitter as @bfwebster.