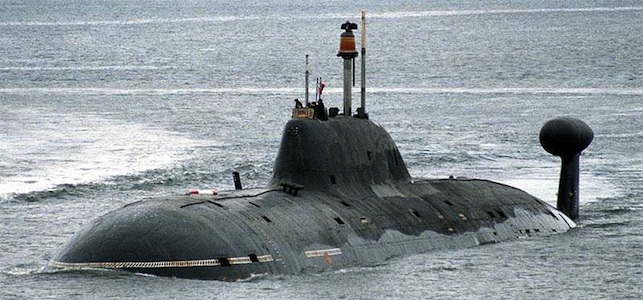 The world is a dangerous place, and today that danger went up a notch.  Our erstwhile allies, the Russians, have decided to lease a powerful Akula / Project 971 nuclear powered attack submarine to India for an extended period of time.
India has been working steadily towards a home grown (and at some point for sale on the export market) nuclear submarine.  A significant part of establishing the INS as a credible submarine force is developing the operational doctrine that goes with a nuclear boat.
The Russians have agreed to lease for 10 years attack submarine K-152 known as the Nerpa.  When re-crewed for the INS, it will be know as the INS Chakra.  This 10 year lease indicates that India is not just going to train and experiment with this powerful platform, but will likely deploy it on operational patrols.  The lessons learned operating this sophisticated machine will rapidly boost the INS's proficiency for the day when their own subs come on line.
Akula submarines are armed with four torpedo tubes that can fire Russian type 53 torpedoes or SS-N-15 Starfish missile, with an additional 4 tubes that can launch Russian type 65 torpedoes or SS-N-16 Stallion missiles.  The Nerpa likely has an additional 6 "static" tubes attached to the hull, but it is unclear if these will be removed prior to it's delivery to India.
Akula submarines are among the more quiet of the Russian navy, and could possibly evade some less sophisticated detection systems.  We assume the US Navy is more than up to the task of finding Akula's anywhere they sail, but for India's prime enemy, Pakistan, an Akula is possibly too stealthy for them to detect.
While the chances of India threatening the US are remote, this is a clear sign of an escalating arms race in south Asia, which is being driven by the Iranian weapons programs.  The lease and likely operational deployment of the Nerpa / Chakra is a clear threat to Pakistan, and will likely prompt further anti-submarine technology purchases by Islamabad.
Category: Geopolitics, Intelligence, Maps, Military
Bruce Henderson is a former Marine who focuses custom data mining and visualization technologies on the economy and other disasters.