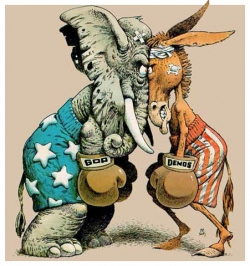 It's about 11:30 pm (Mountain Time), and several key races are still undecided (including Senate races in Colorado, Washington and Alaska), but here are my initial thoughts.
First, the most significant story (IMHO) is the gap between how Republicans did in the Senate and how they did everywhere else. Make no mistake: the 6-seat gain (so far) in the Senate is double the mid-term average. But given the overwhelming change of House membership — now estimated to be around 65 seats — the Senate results are disappointing. Even more curious are the Senate races had polls that showed the Republican candidate in the lead going into the election, yet that same candidate lost by a significant percentage. That suggests that the Republicans — and, in particular, the National Republican Senatorial Committee — did a lousy job of convincing people to vote for Republican Senatorial candidates. Someone should lose their job.
The next most significant story is how well the Republicans did everywhere else. It appears the gains in the House are exceeding anything since World War II and possibly well before that. As importantly — with the 2012 election just two years away — Republicans have picked up several key state governorships and (according to Larry Sabato) appear to be picking up several state legislatures as well. Between redistricting and shifts in the voting habits in key Electoral College states (Pennsylvania, Ohio, Florida), as well as the number of vulnerable Democratic senators who are up for re-election in 2012, it appears that the 2012 elections could allow the Republicans to take over both the Senate and the White House, while holding onto the House of Representatives.
Third is that some losses may turn out to be political blessings for the Republicans. Not having control of the Senate — and especially having Majority Leader Harry Reid back — may avoid the post-1994 problem of making the Republicans look like obstructionists. If the Republican-controlled House passes budgets and tax bills that the public favors and the Senate rejects, the public (or a significant portion thereof) will hold the Democrats responsible. Likewise, Jerry Brown's apparent victory in California will, in my opinion, lead to even more financial and regulatory problems there, and Brown may find himself the target (and ultimate victim) of a general recall election, as happened with Gray Davis.
Fourth, if the pundits think the Tea Party revolution is over, they are very, very wrong.  ..bruce w..
Category: 2010 Election
Webster is Principal and Founder at Bruce F. Webster & Associates, as well as an Adjunct Professor of Computer Science at Brigham Young University. He works with organizations to help them with troubled or failed information technology (IT) projects. He has also worked in several dozen legal cases as a consultant and as a testifying expert, both in the United States and Japan. He can be reached at bwebster@bfwa.com, or you can follow him on Twitter as @bfwebster.