Honestly: our defense spending is high. We're still embroiled in both Iraq and Afghanistan, and while we're withdrawing from Iraq, it really is unclear (President Obama's various pronouncements notwithstanding) when and under what circumstances we'll actually leave. So, yes, if we weren't spending the money we're spending on defense, we'd have a lower deficit.
Maybe.
On the other hand, as the chart above — taken from Kleiner Perkins' "USA, Inc." report — shows, US defense spending is below the average for the post-war average up until we found ourselves in Afghanistan and Iraq. And that holds true all during the past decade of war. There's a common liberal myth that those wars cost trillions of dollars and are entirely responsible for our current deficits. Kleiner Perkins begs to differ: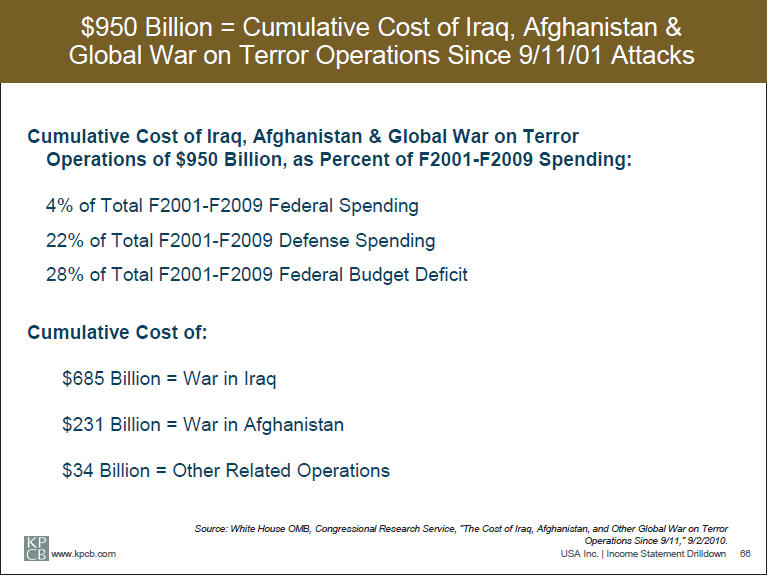 Not cheap by any means, though it's hard to predict where we'd be and what we'd be facing if we hadn't gone in when we did.  ..bruce w..
Category: 2012 Election, Main, Military, Obama Administration, Sea of deficits, US Politics, You Say You Want a Revolution?
Webster is Principal and Founder at Bruce F. Webster & Associates, as well as an Adjunct Professor of Computer Science at Brigham Young University. He works with organizations to help them with troubled or failed information technology (IT) projects. He has also worked in several dozen legal cases as a consultant and as a testifying expert, both in the United States and Japan. He can be reached at bwebster@bfwa.com, or you can follow him on Twitter as @bfwebster.