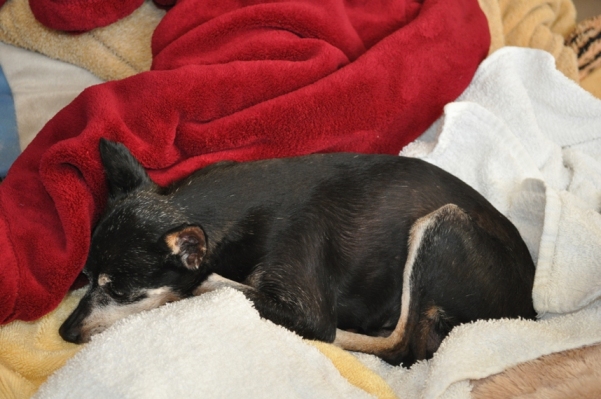 Sandra and I didn't expect to end up with a new dog of our own when we took her sister Betty Jo to look at MinPin puppies in December 1994. The owner of the puppies, John Batchie, was a house painter in Escondido who lived in the upstairs portion of a converted barn on his property. We walked in, sat down — and suddenly this one-year-old MinPin, the father of the litter in question as it turned out, dashed across the room, jumped into Sandra's lap, buried his head between her arm and her side, and didn't move for the rest of our stay there.
That was our introduction to Deacon, sixteen-and-a-half years ago.
John was not very attached to Deacon and said that both Mary (the mother of the litter) and John's cat picked on him a lot. So John offered him to us on the condition that we make him available from time to time for stud duties, which we did until we left San Diego a year and half later. We took him with us to Virginia, to Maryland, to Texas, back to Washington DC, and finally to Colorado.
Deacon was always Sandra's dog. Our own kids loved him, and he would snuggle with just about anyone, particularly as he got older, but he loved Sandra, and she loved him. He loved nothing more than to be curled up with her: on a couch, on the bed, wherever.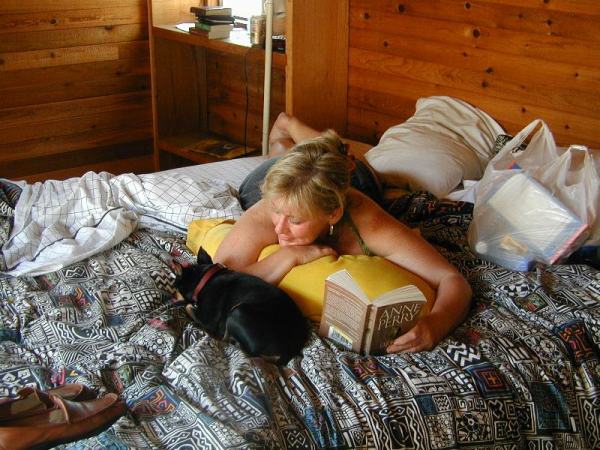 In every single house that we've lived in since we got him, he's escaped at some point (usually multiple times) and gone wandering through the neighborhood; in some of our neighborhoods, the local kids got to know him and would take him home to play with before bringing him back to our house.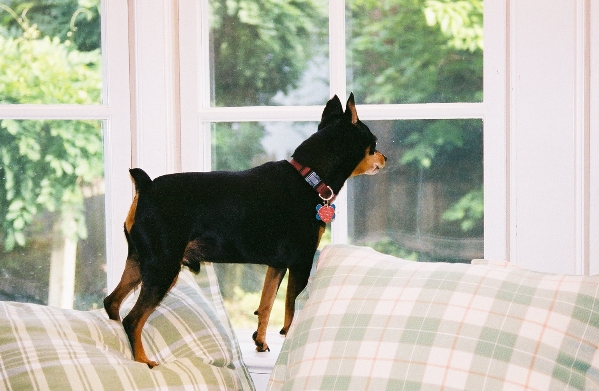 When we ended up with Deacon in 1994, we already had another dog, Belle, a Yorkshire Terrier/Chihuahua mix. Deacon was rather intimidated by Belle; when we put her to sleep about 3 years later due to cancer, he seemed to relish being the only dog. He tolerated, but was never playful with, the subsequent MinPins in our home: first Laverne and Shirley, whom we got nine years ago because I was concerned about Deacon's age(!); then Winni and Marti, whom we got five years ago, several months after Shirley was killed by a coyote.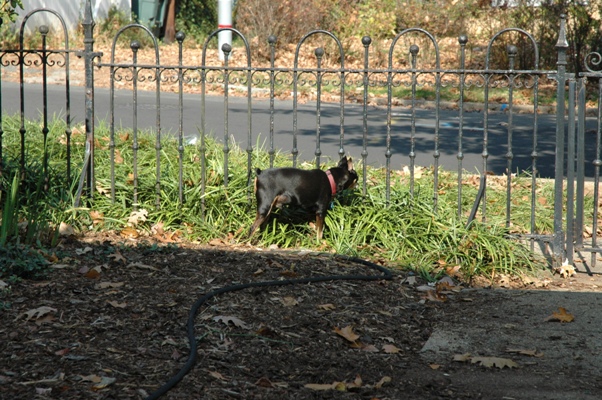 Deacon was still doing his 'walkabouts' after we moved here to Colorado six years ago, and he would sit or lie out on our deck and bark at all the other dogs in the area. But a few years ago, both his eyesight and his hearing began to fail, and he lost the confidence (and, as time went on, the strength) to climb stairs or jump up on the furniture. But he still had a great appetite, he loved to snuggle with us, and his sense of smell got, if anything, keener — he'd be asleep in on our bed, I'd open the fridge door and take out food, and Deacon would wake up and start barking.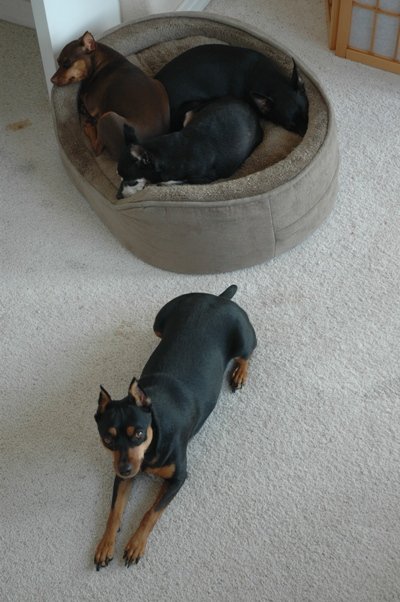 Deacon had a good, full life, extending long past the usual canine lifespan. He was always a favorite at our large BBQs because he would let all the kids hold and pet him to their hearts' content. During the last year or two of his life, he was prone in the late afternoon to get cranky and bark until Sandra or I picked him up to hold him or let him curl up with us on the couch or the bed. And for the last several months, he would often wake up in the middle of the night — he slept on the cushioned cedar chest at the foot of our bed — and bark until one of us got up and brought him to bed with us, where he'd fuss around between us until he found the exact right spot, collapse down, and sleep contentedly until morning. (Sometimes, we'd try to put him back down on the cedar chest after he'd gone to sleep — he'd usually wake back up and bark until we brought him back to bed.)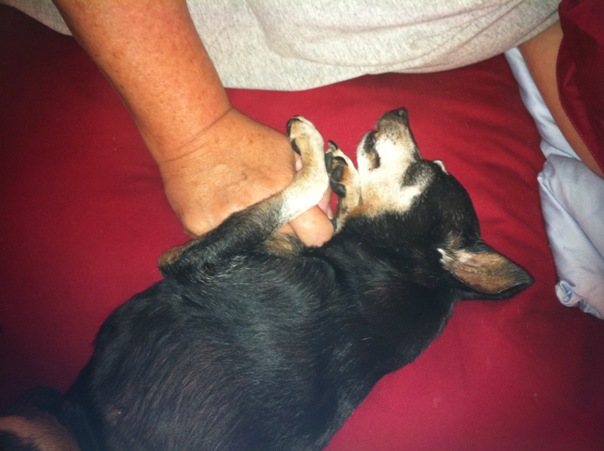 We frankly were surprised he lasted this long — he would have been 18 this coming December. Three months back, he vomited up a half cup of fresh blood late one afternoon; we were sure he was dying, cleaned him up, made him comfortable, and waited. He recovered fully; we still don't know what the problem was.
Then six weeks ago, in the middle of the night, he had a major seizure that lasted for a good minute or so. Again, we were sure he was going to die; again, he didn't, and he mostly recovered, though he was more frail and weak afterward.
Ten days ago, however, he had a second seizure, and he never fully recovered from this one. For several days, he seemed profoundly confused; it was clear that this attack had affected his mind. He recovered a bit, but still was going through bouts where he just seemed…lost, as if he didn't know where he was or why he was there. He would just stand in one place, with his head going steadily back and forth, until Sandra or I went and picked him up. That, on top of his blindness and partial deafness, not to mention his general physical weakness, seemed to rob him of what quality of life he had left.
So this morning, I made that oh-so-hard call to Dr. Jones, our wonderful vet who has been treating Deacon and our other dogs for the last six years. He scheduled us for the last appointment of the day; he was quick and humane, and we took Deacon home, wrapped in his blue dog blanket, and buried him on a ridge on our property just a few feet from where I buried Shirley five-and-a-half years ago.
I have pondered for years the bonds between humans and dogs; they seem different than those we have with any other animal. I can't think of another species of animal that has on so many occasions put itself into harm's way or even given its life to protect a human — not because it was trained to do so, but out of love and instinct. Likewise, I have a hard time naming another species that gives its human owners such unconditional love. We laugh at the cliche, "Help me to be the person my dog thinks I am," but we wince a bit as well — those of us who have or have had dogs know just how true it is.
There is also a sentimental cliche that heaven is the place where, when you arrive, all the dogs who have ever loved you come running to meet you.
Let's see: Tubby. Max. Yo-Yo. Howl. Belle. Princess Jamaica. Shirley. Deacon. And, provided I outlive them, Laverne, Winni and Marti.
You know what? That works for me. That works for me just fine.  ..bruce w..
Webster is Principal and Founder at Bruce F. Webster & Associates, as well as an Adjunct Professor of Computer Science at Brigham Young University. He works with organizations to help them with troubled or failed information technology (IT) projects. He has also worked in several dozen legal cases as a consultant and as a testifying expert, both in the United States and Japan. He can be reached at bwebster@bfwa.com, or you can follow him on Twitter as @bfwebster.