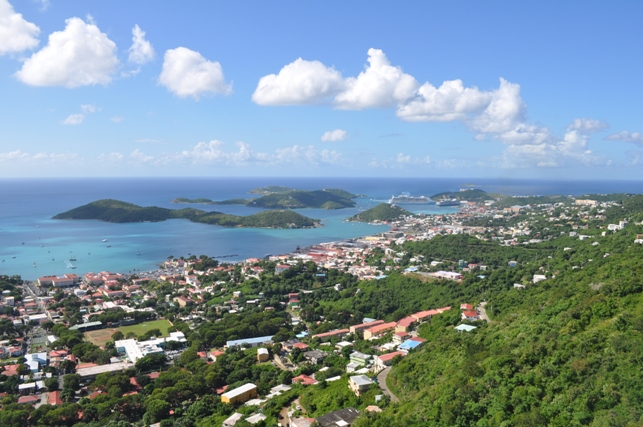 Almost wrote "day 6" up there, but then realized I was a bit ahead of myself.
Arrived in St. Thomas (USVI) relatively early this morning — around 7:30 or so. Sandra and I opted for a bit more leisurely activity today: a bus tour of parts of Charlotte Amalie (the capital of St. Thomas) and then a downhill walking tour. Had lunch ashore — the first non-ship meal we've had since embarking last Saturday — then came back to the ship.
The National Review sessions this afternoon were great: Ramesh Ponneru interviewing Tim Pawlenty, and then Rich Lowry moderating a panel on the future of conservatism. I did finally get all the books I brought along signed by their respective authors — Victor Davis Hanson, Mark Steyn, James Lileks, and Jonah Goldberg. I also bought and had signed a book by John Derbyshire, one of my favorite NR writers and bloggers — he's even better in person than in print.
Dinner conversations were wonderful, as always, and I was especially intrigued to talk with Marv Krinksy, who's chairman of the board of advisors of the John M. Ashbrook Center for Public Affairs. This is a special educational program for poly sci and history majors at Ashland University that (among other things) takes the novel approach of actually going back and studying original documents in American History to see what they say. ..bruce..
Category: 2012 Election, National Review Cruise, Rightist organizers, You Say You Want a Revolution?
Webster is Principal and Founder at Bruce F. Webster & Associates, as well as an Adjunct Professor of Computer Science at Brigham Young University. He works with organizations to help them with troubled or failed information technology (IT) projects. He has also worked in several dozen legal cases as a consultant and as a testifying expert, both in the United States and Japan. He can be reached at bwebster@bfwa.com, or you can follow him on Twitter as @bfwebster.