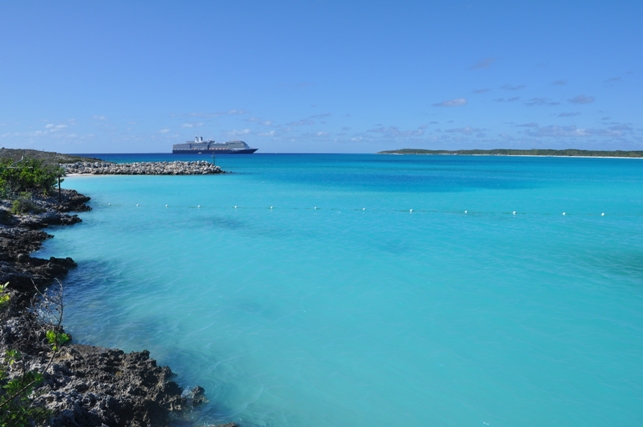 I wanted to do a 'day 7' post last night, but I discovered that I was down to 15 minutes left on my on-ship wi-fi account, and they weren't letting me buy any more minutes. I used those 15 minutes up just trying to change our seats for our flights home today, which should give you an idea of just how slow the wi-fi was aboard the ship. That's also why I used the Sprint 3G/4G hotspot in San Juan and St. Thomas, even as I tried hard not to think what the resulting charges were likely to be.
Yesterday (Friday) was spent mostly at Half Moon Cay, an island in the Bahamas that Holland American apparently owns outright. We rented a private cabana, complete with snacks, drinks, and a fresh grilled BBQ lunch, and entertained several speakers-becoming-friends, including John & Melissa O'Sullivan, Michael & Kate Walsh, and James Lileks. While we were all eating lunch, we spotted Ramesh & April Ponneru in the water nearby with their two children and chanted Ramesh's name until they came up and enjoyed us. It was just a delightful day with many great memories, including laying out under the hot Bermudan sun discussing "Forbidden Planet" and related topics with James, and watching Melissa, Kate, and Sandra sing along with the piped-over-the-PA version of "Will You Still Love Me Tomorrow?" on the upper deck of the tender taking us back to the ship. (I have video of the latter, but have promised all involved not to post it to YouTube.)
The final panel, back on board the ship, was a retrospective on George W. Bush. I appreciated (and heartily agreed with) Kevin Hasset's rather harsh critique of the growth of government spending under W, but I also appreciated (and heartily agreed with) Elliot Abrams's first-hand observations of Bush's integrity, of his love for America, and for his respect for people and for the office in which he sat.
On the other hand, and speaking of next year: my growing concern at this point is that the 2012 election will be a repeat of the 2008 election, with Newt Gingrich filling the role of John McCain. Sigh.
Still, this was just one hell of a trip — possibly the single best and most memorable trip we've ever taken. We are definitely coming back next year. ..bruce w..
Category: 2012 Election, Main, National Review Cruise
Webster is Principal and Founder at Bruce F. Webster & Associates, as well as an Adjunct Professor of Computer Science at Brigham Young University. He works with organizations to help them with troubled or failed information technology (IT) projects. He has also worked in several dozen legal cases as a consultant and as a testifying expert, both in the United States and Japan. He can be reached at bwebster@bfwa.com, or you can follow him on Twitter as @bfwebster.