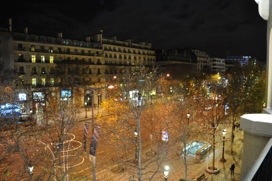 And I'm awake at 0400 Paris time. On the other hand, I can hardly be surprised, since I not only crashed for about 4 hours yestreday afternoon, but I went to be relatively early (2200 Paris time) last night as well.
Our hotel room (acquired using some of the bazillion frequent-stayer points I've accumulated at a particular hotel chain) overlooks the Champs-Elysees. Even at 4 in the morning, the C-E is busy with cars — not jammed, like yesterday evening, but merely busy — and with pedesrians, almost all of whom are in pairs or groups. The people, that is. They're also generally noisy (again, the people). New York likes to style itself as "the city that never sleeps", but I'm not sure it's got much on Paris.
I would post photos and/or video — both of which I took just a few mintues ago from our balcony — but in an effort to pack light, I left my laptop back in the States. I have no easy (or, for that matter, hard) way of tranfering said images onto my iPad, and even if I did, I'm not sure I have a way to upload them to WordPress. figured it out.
Meanwhile, the EU has been splintering just in the last 24 hours. Interesting times ahead. ..bruce w..
Category: Economics, Eurocrisis, Geopolitics, Main
Webster is Principal and Founder at Bruce F. Webster & Associates, as well as an Adjunct Professor of Computer Science at Brigham Young University. He works with organizations to help them with troubled or failed information technology (IT) projects. He has also worked in several dozen legal cases as a consultant and as a testifying expert, both in the United States and Japan. He can be reached at bwebster@bfwa.com, or you can follow him on Twitter as @bfwebster.