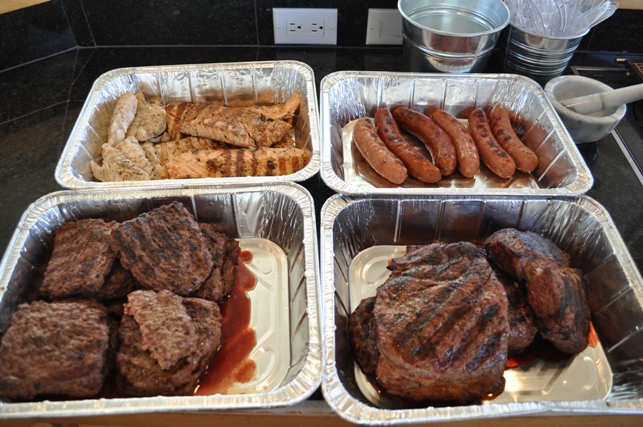 I continue to make progress, even though I didn't do nearly as much exercising as I should have this week. Still, I've lost 20.1 lbs out of my initial goal of 30 lbs, and I still have 7 weeks to go. The steady loss is all the more impressive when you consider that my Cheat Day weight gain last weekend was nearly 7 lbs — probably because I started 'Cheat Day' early (Friday night) due to being invited over by some close friends for dinner.
I also noticed this morning while doing my 'laps' up and down the driveway that it's getting noticeably easier to go up the driveway, which I attribute as much or more to the loss of weight as to any aerobic conditioning.
I've mentioned in earlier posts that I do a mass grilling of protein every 7-10 days, then use the leftovers for my (non-cheat-day) meals. The photo above shows most of what I grilled a few days ago. From upper left, in clockwise fashion, we have:
rockfish and salmon
both chicken and buffalo sausages
sirloin steaks
hamburger patties
What the photo doesn't show are the boneless chicken breasts — cut lengthwise in half and marinated in Tabasco sauce — that were still out on the grill. All the grilling turned out well, though the rockfish was a bit bland and underwhelming; I got it mostly to try something other than the salmon (which always turns out great).
Speaking of the salmon — my sweet wife suffers a lot from joint pain and typically uses a lot of ibuprofin on a regular basis. Since I started grilling fresh salmon some weeks ago — which she now eats several times a week as a result — she's noticed that she has far less joint pain and that her use of ibuprofin has dropped significantly. Anecdotal, but for what it's worth.
After making white beans and ham hocks for the last three or four weeks, I made a large batch of my Grandpa Jack's Mexican beans instead. This is (IMHO) a great 4HBD food, since it's got both beans and a lot of protein. I linked to the recipe in an earlier 4HBD post, but I thought I'd reproduce the recipe here.
Here's the basic proportion of ingredients; you can scale this up as you'd like (I typically prepare a triple batch, but you need to have a very large pot to do that):
1 lb dried pink beans
1-2 lbs meat, ground and/or diced (I use beef or pork; however, I suspect chicken or turkey would work well. I usually use 2 lbs meat per 1 lb of dried beans.)
1 tablespoon pepper
1 lb (16 oz) Mexican chorizo (either beef or pork)
1/2 to 1 tablespoon salt
A brief aside: for many years, the Mexican chorizo typically came in 16 oz packages. However, the infamous Grocery Shrink Ray has struck, and most packages are now just 10 or 12 oz. Adjust accordingly. Personally, I find that "too much" chorizo tastes better than too little; in my triple batch this week, I used 50 oz (five 10-oz packages) of chorizo. Also, feel free to mix meat types; I find that beans made with ground beef and pork chorizo have a great flavor to them.
Rinse the beans; put in a heavy pot and cover with water and let them soak overnight. In the morning, pour off the water, rinse the beans, drain again, and then cover them generously with water. Bring to a gentle boil; add the pepper. Let cook until the beans are tender, usually a few hours. Add the meat (if using ground beef or pork, crumble it into the pot); stir.  Cook for a few hours more, adding water as needed, though you don't want to add too much. Add the chorizo by slicing open its packaging and squeezing it into the beans. It will dissolve in a little while; stir until it does. Simmer for a few hours more. Finally, add the salt (you want to add this as late as possible, since it will stop the beans from softening). Adjust seasonings (more salt and/or pepper) to taste. Continue to simmer as long as you'd like. Note that this makes a great crock pot recipe.
In all this, stir the beans on a regular basis and take care not to let the beans burn on the bottom of the pot; if that does happen, do not scrape the bottom of the pot. Instead, pour the beans into another container, then scape off the bottom of the pot (into the trash), clean the pot thoroughly, put the beans back in, and continue. The goal is to neither add too much nor too little water, so that the beans have a nice, thick consistency when you are ready to serve them. You can refrigerate or freeze and reheat; they simply get better each time they are reheated. With the triple batch I made this week, I froze half and put the other half in the fridge.
I'm going to push a bit harder on exercise this week, mostly by being more consistent. Meanwhile, I'm going to go have a large cheesy Mexican meal for lunch somewhere.  ..bruce w..
Category: Food, Four Hour Body, Health and Fitness, Main, Personal
Webster is Principal and Founder at Bruce F. Webster & Associates, as well as an Adjunct Professor of Computer Science at Brigham Young University. He works with organizations to help them with troubled or failed information technology (IT) projects. He has also worked in several dozen legal cases as a consultant and as a testifying expert, both in the United States and Japan. He can be reached at bwebster@bfwa.com, or you can follow him on Twitter as @bfwebster.