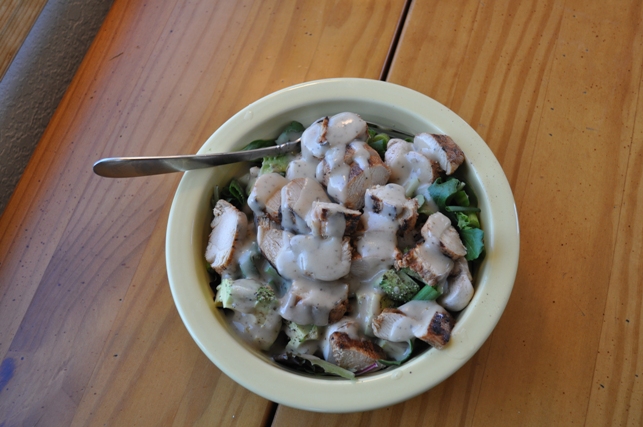 It's now been five months since I started following the Four Hour Body diet — here's my original post on the subject, from two weeks in. Where do things stand now?
Well, they stand pretty well. As of this morning (5/31), I am down 26.5 lbs from where I started. My blood pressure has gone from being uncomfortably high, even with blood pressure medication, to being quite normal. It did climb up a bit a few months back, probably due to certain external stresses (and, after that, due to a low battery in my blood pressure cuff), but has dropped by into normal territory and sometimes below that (lowest reading to date is 106/72).
I've had two weight plateaus during the past five months. ("Plateau" itself may be an unfair characteristic — it assumes that you will be losing weight every week, regardless of your body's actual response to the diet.) The first one appeared early on, and lasted only a few weeks. The second appeared around the start of March and lasted for about two months. During that time, I hit -22.0 lbs three times, then would drift back up. I finally broke through the -22.0 lb "barrier "in early May and am down nearly five more pounds since then. In fact, I've been below that -22.0 lb barrier for all of the last 10 days.
As I've said in several of my earlier FBH posts, the diet itself has been relatively easy to maintain. I'm not really tired of it, and I feel more virtuous for all of the fresh green veggies I've been eating over the past five months (most days, I have a salad with beans and protein of choice for one of my meals). I don't miss the sugar very much, and I find that after my now-traditional overnight waffles each Saturday morning, I'm just not in the mood for much more sugar the rest of the day (though I do force myself to eat more). I miss bread and cheese during the week a lot more than I do sugar, but seeing myself at a weight that I haven't been at for five years more than makes up for that.
I also feel free to do minor cheats once every week ro two, due to circumstances. For example, if Sandra & I go to see a movie on Friday (instead of Saturday), I'll buy and share nachos with her anyway (though I won't eat any candy). Or, yesterday we drove down to southern Colorado and back; on the way home, we drove through Taco Bell, and I ate a 'Meximelt' and a steak burrito (which was far more rice, beans, and other fillings than it was steak; makes me miss Alberto's and its descendants, where a carne asada burrito was simply a lot of carne asada in a tortilla). I frankly didn't enjoy the Taco Bell food all that much, but it had been about 8 hours since I had eaten, and I wanted to get something in me. And yet this morning I weighed less than I did yesterday.
Here's the really interesting phenomenon, which I've touched on above and in earlier posts: while I'll often find myself craving (or, more accurately, wishing to eat) certain food items during the week, when I get to Saturday and can actually eat them, they often no longer seem terribly appealing. I don't know how much of that is physiological and how much is psychological. As a result, my cheat day lunch and dinner sometimes end up being not that much different from my regular meals; for example, having steak fajitas, where the bulk of the food is consistent with the FHB diet, and the only 'cheat' items are tortillas and cheese. I'll snack on some cheat items during cheat day — we have a box in the pantry where candy and cookies collect — but I no longer have that "gee, I need to eat all the cheat items I can today" compulsion, and my post-cheat-day weight gains tend to be pretty modest (less than 2 lbs for each of the last three weekends).
My original goal was -30 lbs by late April; there appears to be a good chance that I can hit it sometime in June. My long-term goal is -50  lbs, and I'll be very happy if I can make that by the end of the year. The diet itself I see as long-term or permanent; I'm just as happy to cut sugars and many other carbs out of my diet. When I get down to -50 lbs, I may play around to see, for example, how much cheese and whole grain bread I can re-introduce during the week while maintaining my weight, but that's a ways off.
I'll also note that I am very, very happy with the Withings weight scale and blood pressure cuff that I purchased early on. They have made it extremely easy to monitor my weight and blood pressure on a daily basis. The only caution I have, I noted above: with the blood pressure cuff, keep an eye on the battery gauge, which appears in the lower left corner of the cuff readout display that comes up on your iPad  when you plug in the cuff. I didn't realize the batteries in the cuff were dying until the cuff itself was unable to complete a measurement. After putting in new batteries and completing a reading, my blood pressure was down 15 pts from the previous reading, so having dying batteries obviously affects the results. Also, while the weight registered by the Withings scale is very consistent and appears to be quite accurate, the 'fat weight' and resulting BMI aren't. I've had consecutive days where my total weight varies by one pound or so, but my fat weight varies by over 12 lbs.
Food tip: Drew's makes a great selection of salad dressings that are usually sugar, dairy, and/or gluten free. You'll probably have to go to a store like Whole Foods or Sprouts to find them, but it's worth it. My favorite is the Roasted Garlic & Peppercorn. In fact, that's probably what's on my food in the photograph above.
That's it on the Four Hour Body diet for now. I'll probably make another FHB post when I hit -30 lbs, and then do updates when I hit successive milestones.  ..bruce w..
Category: Food, Four Hour Body, Health and Fitness, Main, Personal
Webster is Principal and Founder at Bruce F. Webster & Associates, as well as an Adjunct Professor of Computer Science at Brigham Young University. He works with organizations to help them with troubled or failed information technology (IT) projects. He has also worked in several dozen legal cases as a consultant and as a testifying expert, both in the United States and Japan. He can be reached at bwebster@bfwa.com, or you can follow him on Twitter as @bfwebster.