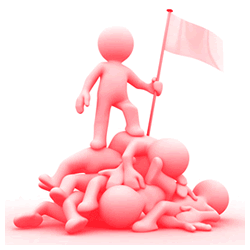 I experienced the stack-ranking method of subordinate evaluation during my two years at PricewaterhouseCoopers and had very serious reservations about it. Now, in just the past few days, I've learned that Microsoft has been using stack-ranking for its personnel since before Steve Balmer became CEO:
The stack rank was harmful. It served as an incentive not to join high-quality groups, because you'd be that much more likely to fall low in the stack rank. Better to join a weak group where you'd be the star, and then coast. Maybe the executives thought this would help strong people lift up weak teams. It never worked that way. More often, it just encouraged people to backstab their co-workers, since their loss entailed your profit.
The stack rank was a zero-sum game—one person could only excel by the amount that others were penalized. And it was applied at every level of the organization. Even if you were in a group of three high performers, it was very likely that one of you would be graded Above Average, one Average, and one Below Average. Unless your manager was a prick or an idiot or both, the ordering would reflect your relative skills, but that never came as too much comfort to the hard-working schlub who just wasn't as good as the other two.
That to me explains better than anything else why Microsoft has stagnated technically for so many years (not that it was ever a font of innovation and market leadership). Be sure to read the whole thing.
Category: Information Technology, Main, Microsoft
Webster is Principal and Founder at Bruce F. Webster & Associates, as well as an Adjunct Professor of Computer Science at Brigham Young University. He works with organizations to help them with troubled or failed information technology (IT) projects. He has also worked in several dozen legal cases as a consultant and as a testifying expert, both in the United States and Japan. He can be reached at bwebster@bfwa.com, or you can follow him on Twitter as @bfwebster.