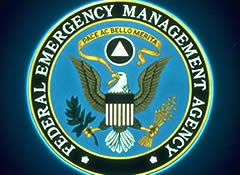 Via Slashdot comes this slap-your-forehead story over at TechDirt:
As you may have heard, Boulder, Colorado has been hit by massive flooding over the past week, and it's been something of a mess. A local company, Falcon UAV, makers of special drones which are built for the government, approved by the FAA, and specialize in using GPS and cameras to generate highly accurate maps, started helping to map the damage with those drones. It was basically making very useful, near real-time maps showing the floods. You'd think that would be useful to, say, FEMA, the Federal Emergency Management Agency in charge of helping to coordinate the response to the floods. Instead, FEMA ordered the drones grounded or it would have people from Falcon UAV arrested. Once again, this isn't just some guy with a toy quadcopter trying to take photos. These are drones designed for this sort of thing.
As Glenn Reynolds would say: Tar. Feathers.
NOTE: Our local news broadcast (10 pm, Monday night) just said that FEMA "debunked" that claim — except that, according to what the news anchor said, they didn't really deny telling the firm to ground the drones — they said that they were merely concerned about the drones colliding with the helicopters. ..bruce w..
Category: Avionics, Colorado, Creeping socialism, Disasters, Idiot bureaucrats, Main, Obama Administration
Webster is Principal and Founder at Bruce F. Webster & Associates, as well as an Adjunct Professor of Computer Science at Brigham Young University. He works with organizations to help them with troubled or failed information technology (IT) projects. He has also worked in several dozen legal cases as a consultant and as a testifying expert, both in the United States and Japan. He can be reached at bwebster@bfwa.com, or you can follow him on Twitter as @bfwebster.