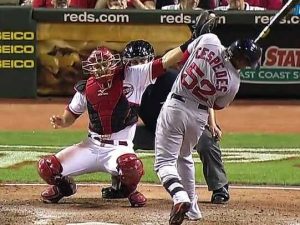 After Donald J. Trump was elected President of the United States, he began to interview many different individuals for possible Cabinet and Administration positions. Immediately, there were nearly daily leaks as to whom was being considered for what position, and whether a given individual's stock was rising or falling. After this had gone on for a few weeks — with sometimes wildly differing information coming out of Trump Tower and its environs — I talked with my close friend and co-blogger, Bruce Henderson, and wondered if Trump was carrying out a classic information security exercise: giving specific bits of information to specific individuals and then seeing if that information showed up in the press the next day or so. If it did, then the source of that leak was unmistakable identified. Henderson thought it plausible, but there was no way to prove that this was going on. It is interesting, however, to note that several individuals who were once considered "shoo-ins" for a position in the Trump Administration are now on the outside looking in.
However, much stronger evidence that Trump might indeed have been doing this was given by Trump himself at today's press conference, since he describes using exactly that technique to find the source of leaks about his intelligence briefings:
I'll tell you what does happen. I have many meetings with intelligence. And every time I meet, people are reading about it. Somebody's leaking it out. So, there's — maybe it's my office. Maybe in my office because I have a lot of people, a lot of great people. Maybe it's them. And what I did is I said I won't tell anybody. I'm going to have a meeting and I won't tell anybody about my meeting with intelligence.

And what happened is I had my meeting. Nobody knew, not even Rhona, my executive assistant for years, she didn't know — I didn't tell her. Nobody knew. The meeting was had, the meeting was over, they left. And immediately the word got out that I had a meeting.
I haven't seen a lot of follow-up about that (well, except now for the main headline on Drudge), but it's very clear that Trump just nailed the existing Intelligence agencies for leaking this information. He knows it, and they know it. And guess what happens less than 12 hours later?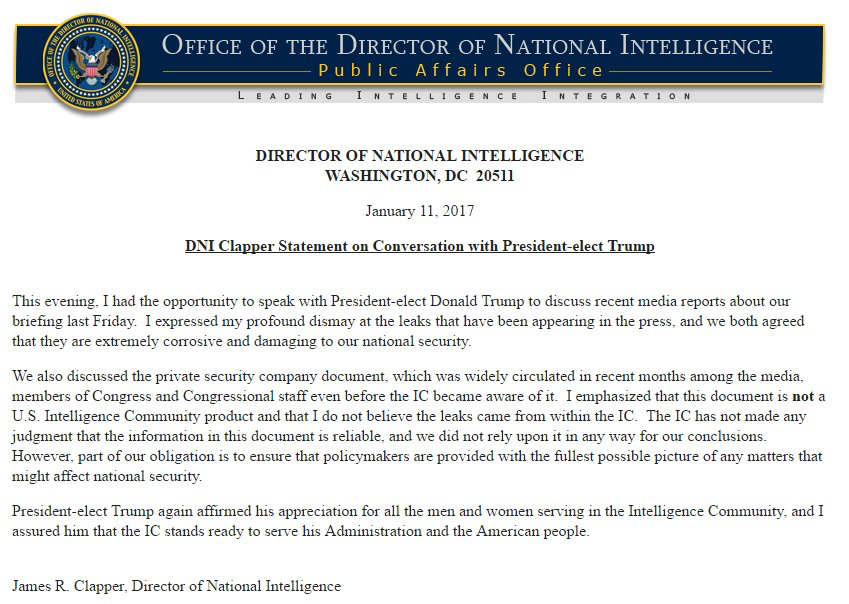 Translation: "Our bad."
Well played, President-Elect Trump. I suspect we may see some top-level housecleaning when Dan Coats (Director of National Intelligence and Clapper's replacement), Mike Pompeo (Director of the CIA) and Gen. Mike Flynn (National Security Advisor) are confirmed and in place.  ..bruce..
Category: 2016 Election, Intelligence, Main, Obama Administration, Trump Administration
Webster is Principal and Founder at Bruce F. Webster & Associates, as well as an Adjunct Professor of Computer Science at Brigham Young University. He works with organizations to help them with troubled or failed information technology (IT) projects. He has also worked in several dozen legal cases as a consultant and as a testifying expert, both in the United States and Japan. He can be reached at bwebster@bfwa.com, or you can follow him on Twitter as @bfwebster.